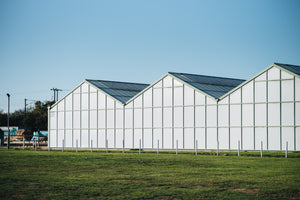 We deliver your happy little houseplants all across the UK (excluding Scottish Highlands and Islands, Northern Ireland, The Scilly Isles and the Isle of Man).
All our packaging is 100% recyclable, FSC certified and completely plastic free, so you can rest easy that your order leaves nothing behind but a happy smile from planet earth.
We ship all your eco-friendly orders on Monday every week. We have partnered with Parcelforce to courier your items straight to your door. Once Parcelforce have collected your order, you can expect delivery after 2 - 3 working days.
We do our absolute best to make sure your items are packaged and delivered to you in the best possible condition. But unfortunately, accidents do sometimes happen. If any part of your order arrives broken or damaged, please contact us immediately so we can resolve the problem for you ASAP.
Please contact us at hello@gebandgreen.co.uk
Once your order is confirmed, you will be notified via email which will include an order tracking number and kept up to date on expected delivery times va SMS.
You can track your delivery by using this link here: https://www.parcelforce.com/track-trace
Good Question! Taking care of a plant can seem difficult, and some people seem to make it harder than others. Read our full 'Plant Care Guide' to start your journey to becoming a certified Plant Parent.
Luckily for you, we have pots that perfectly fit the houseplants that we sell. However, as a general rule of thumb:
12cm diameter nursery pot = 13 to 15cm diameter decorative pot
17cm diameter nursery pot = 18-20cm decorative pot.
We have a 7-day return policy, which means you have 7 days after receiving your order to request a refund. We will only refund if damaged.
To start a return, you can contact us at hello@gebandgreen.co.uk. If your refund is accepted, we'll send you an email confirmation letting you know.
We are all trying to live greener lifestyles and make more sustainable choices. But it can be hard to make greener choices if there is no genuine affordable alternative. Peatlands are crucial to our planet, not only do they contain huge amounts of carbon but are home to a huge amount biodiversity.
The most common reason why peat is extracted from natural peatlands... is unfortunately, horticulture. So we are here to change that and give you a genuine, sustainable alternative to our houseplant obsession.
We have partnered with Elho to supply our beautiful sustainable, plant pots. All their pots are made from 100% recycled plastic, are produced using wind energy and are 100% recyclable.
Our nursery pots are also all curbside recycled.
Our core belief is that houseplants and consumerism needs to change to become more circular, sustainable and benefit our planet rather than damaging it.
We are committed to becoming a fully sustainable business model from our plants and soil to our energy and distribution.
Read our 'sustainable vision', so you can be sure you your purchase is good for your home and the earth.
If you have a query for our team, we would love to hear from you. Please contact hello@gebandgreen.co.uk and we'll be back in touch with you asap.
If you are interested in collaborating, partnering or affiliating with Geb & Green to spread our sustainable song. Then message hello@gebandgreen.co.uk for more information.